11.30am Guests start to arrive and are welcomed to the 6th annual Long Lunch. Thank you so much for supporting our event!
An arrival drink and canape will start the journey of a day full of fabulous food and fantastic beverage matches with stimulating company. Be ready to relax and enjoy an entertaining day while supporting Totara Hospice
Throughout the afternoon you will kept entertained as a selection of celebrated New Zealanders will host tables and be available to chat and have some fun… Treat yourself to a selection of fabulous items in the Silent Auction, grab a glass of Moet in the fabulous Moet Raffle and win prizes on the day, plus a stunning Live Auction with money can't buy foodies experiences!
All food is prepared by volunteers Culinary Students from NZMA and service is done by the Totara Hospice Youth Ambassadors.
Your Head Chef for the day
Ben Barton
It started with fish. As a keen young rock fisherman, he wanted to learn how to cook the fish he caught, so he got a job washing dishes in a local restaurant. Working fast, asking lots of questions, dodging scalding pans and blazing tempers, he climbed the gastronomic ladder.
Craving adventure, he cooked his way through Europe, and the galleys of super yachts. These floating white hotels served as a platform for his more whimsical dishes as he cooked for media moguls, software giants, politicians, movie makers, and even an arms dealer. After a decade of culinary capers abroad he packed his knives and returned to Auckland.
After a couple of years creating location-specific culinary events under his Pop Dining umbrella Ben is at now at the artisan grocery and restaurant Scarecrow in the city. Not just a restaurant it is a showcase for some of the region's most exciting small producers.  The owners share his philosophy of knowing where our food comes from, and the stories behind it. Ben's passion for sustainable cooking shines through in his dishes, changing each day with the ingredients on hand.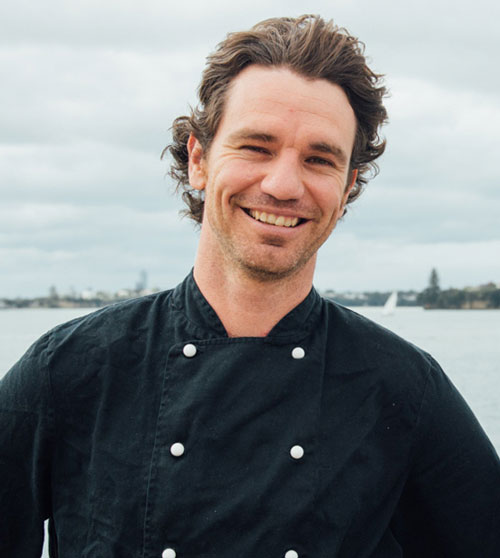 The 2017 Latin American Menu
Clevedon Coast Oysters with chilli and lime mignonette
Purchase Wine Match – Moet & Chandon Champagne Raffle
Niwa Farmed Kingfish & Freedom Farms Carnitas Tostadas – Grilled Fish & Pulled Pork on Tio Pablo tostadas
Complimentary Beer Match – Estrella Damm
Niwa Kingfish Ceviche – Chilli, red onion, citrus, avocado and coriander
Complimentary Wine Match – Mills Reef Reserve Pinot Gris 2016
Empanadas with chipotle salsa – Black beans and Mahoe Farmers Fresh cheese
Complimentary Wine Match – Villa Maria Cellar Select Pinot Noir
Veduras – Greenferns White asparagus with Chipotle Hollandaise
Complimentary Wine Match – Leftfield Sauvignon Blanc 2017
Ensalada – Avocado, curious croppers tomato and pickled cactus
Arroz con Azzafron – Saffron rice
Freedom Farms Pork Chile Verde – Pork braised in a mild Tio Pablo tomatillo salsa
Complimentary Wine Match – Tohu Wines Marlborough Sauvignon Blanc
Complimentary Beer Match – Inedit Damm – the legendary beer of Spain designed specifically to go with exquisite food
(Chile Verde is available as a Vegan dish please confirm with the kitchen before 12.45pm if needed)
Oaxacan Chocolate Mole – Harmony Chicken and Tio Pablo Mole, a complex array of sweet, spice and dark toasty flavours
Complimentary Wine Match – Tohu Wines Hawkes Bay Syrah
Tres leches – Cake soaked in three milks served with macerated strawberries and orange
Criollo Chocolate Chili Truffle – By Bjorn Svennson