12noon Guests start to arrive and are welcomed to the 5th annual Long Lunch "A Latin American Fiesta". Thank you so much for supporting our event!
An arrival drink and canape will start the journey of a day full of fabulous food and fantastic beverage matches with stimulating company. Be ready to relax and enjoy an entertaining day while supporting Totara Hospice
Throughout the afternoon the fabulous Michele A'Court will keep you entertained as our returning MC and a selection of celebrated New Zealanders will host tables and be available to chat and have some fun.. Treat yourself to a selection of fabulous items in the Silent Auction, grab a glass of Moet in the fabulous Moet Raffle and win prizes on the day, plus a stunning Live Auction with money can't buy foodies experiences!
All food is prepared by volunteers Culinary Students from NZMA and service is done by the Totara Hospice Youth Ambassadors.
Your Head Chefs for the day
Ben Barton from Scarecrow and Sam Mannering from Pah Homestead
Ben Barton
It started with fish. As a keen young rock fisherman, he wanted to learn how to cook the fish he caught, so he got a job washing dishes in a local restaurant. Working fast, asking lots of questions, dodging scalding pans and blazing tempers, he climbed the gastronomic ladder.
Craving adventure, he cooked his way through Europe, and the galleys of super yachts. These floating white hotels served as a platform for his more whimsical dishes as he cooked for media moguls, software giants, politicians, movie makers, and even an arms dealer. After a decade of culinary capers abroad he packed his knives and returned to Auckland.
After a couple of years creating location-specific culinary events under his Pop Dining umbrella Ben is at now at the artisan grocery and restaurant Scarecrow in the city. Not just a restaurant it is a showcase for some of the region's most exciting small producers.  The owners share his philosophy of knowing where our food comes from, and the stories behind it. Ben's passion for sustainable cooking shines through in his dishes, changing each day with the ingredients on hand.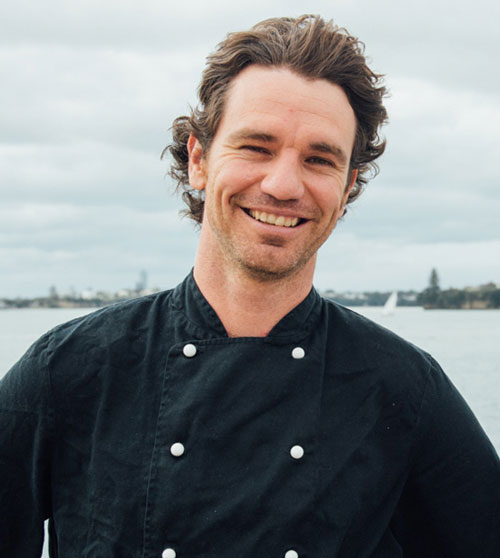 Sam Mannering
He might look familiar, but where have you seen him? Was it from Sunday magazine or in Cuisine, or is it from Pah Homestead, Hillsborough. There are certain people you meet who seem to have boundless talent, motivation and energy. Sam Mannering is one of them – a 28 year old with a successful career in both acting and cookery ahead and behind him. We first heard of him when A Year's Worth: Recipes from the Dunsandel Store landed on our desks – a prettily designed and photographed recipe book made in collaboration with Annabel Graham, featuring seasonal recipes from the iconic Canterbury cafe.
His latest book is just as pretty – a cloth bound catalogue of approachable recipes with evocative photography by Daniela Aebli- Food Worth Making.